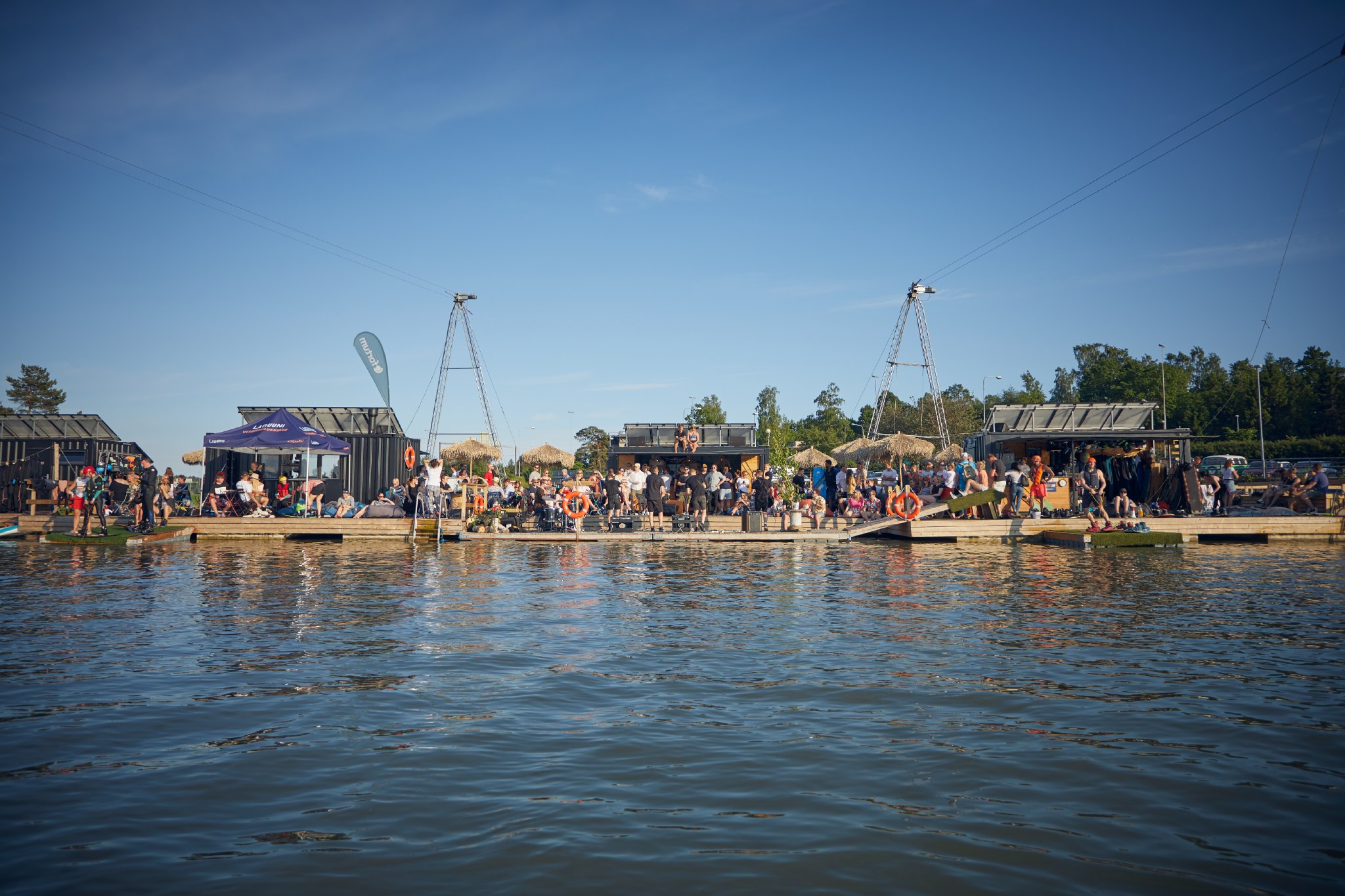 KEILIS, ESPOO
The

floating

watersport

center in Keilaniemi

offers

e.g

. a

giant

water

park

,

two

wake

cables

,

kayaking

,

stand

up

paddling

and

electrical

bikes

. Restaurant

Blägä

serves

fresh

meals

and

our

floating

sauna

guarantees

gentle

steams

with

a

seaview

.

 
KEILALAHDENTIE 8
02150 ESPOO
OPEN EVERY DAY 10-22
Super fun
Water park
Our giant floating water park offers challenge and fun experiences for all ages! Adequate swimming skills are neccessary. The diverse obstacles include a tarzan liana, a giant slide and an iceberg that will challenge everyone!  
The water park is supervised by our staff and it's for everyone over 6 years old with at least adequate swimming skills. A child between the ages of 6 and 12 must be accompanied by an adult guardian who constantly monitors the child at least from the beach. For parents, we also offer family tickets.  
Reserve your time in advance and save 1€ service fee with our online booking  (prices from 14€ /h). 
Book now
Wakeboarding
In Keilaniemi we have two wakeboarding cables. You´ll get tips to ensure your first time on board goes as smoothly as possible, but if you feel a need for deeper instructions, we also offer courses for all levels.  
Cablewake is a fun and fast pace activity, with the possibility to push your limits with all kinds of flips and spins. From the two cables Easy is a shorter track and first choice for beginners, where as Pro is a little longer and contains more obstacles that you can choose to use. Both of the tracks are totally ok for all levels! Thanks to Fortum our cables run exceptionally on solar energy. 
Reservate your time in advance and save 1€ service fee with our online booking (prices from 25 € /h).
Book now
liberating
Kayaking
In Laguuni Keilis you can easily rent a kayak and enjoy the beautiful views around the archipelago independeltly. Kayaking courses and safaris are also a great way to get acquainted with this awesome outdoor sport and the surrounding spots with the guidance of a professional.  
We offer quality kayaks and paddling equipment for beginners and more advanced kayakers. We also offer various courses and trips for all levels!  Read more about kayaking at Laguuni. 
Reservate your time in advance and save 1€ service fee with our online booking (prices from 27€ /h).
Book now
Relaxing
SUP boarding
From Keilis you can rent a SUP board, take part in a guided excursion, rent a SUP polo area for your group or enjoy a yoga lesson on a SUP board.  In addition the rental board selection includes delightful options, such as date-SUP for two or an XXL board suitable for a group of friends. 
SUP tours offer new insights for both beginners and more experienced enthusiasts. During the excursions, you will learn about paddling equipment, safety, and various techniques for moving and turning. 
For groups SUP-polo game is a fast-paced and fun activity! The game is played on a separate field 3vs.3 or 4vs.4. Learn more about options for groups here. 
Reservate your time in advance and save 1€ service fee with our online booking (prices from 20 € /h).
Book now
cool
Flyboarding
You can now experience what it feels like to fly! A flyboard has a 260 horse power waterpressure that lifts you up in the air.   
First-timers welcome! You can safely practice the sport here in Laguuni.  This is a perfect unique experiance for eg. bachelor parties. 
smooth
Electric bikes for groups
Espoo's beautiful coastline can now be taken over with high-quality electric bikes! Domestic Sähköpyörä electric bikes are easy to use and they suite for cyclists of all lengths. From Keilis, you can easily head to interesting cultural sites or unique nature spots. Ready-made route maps, electrical assistance and awesome landscapes make your bike adventure special. 
awesome sea views &
Restaurant + Sauna
Keilaniemi's restaurant Blägä's summer menu guarantees to leave no one hungry. The restaurant serves light and warm meals every day, as well as tailor-made catering to the groups.  
Outdoor experiece is in its best with a warm, floating sauna! You can also book the sauna for private use or come on a public sauna shift to enjoy the soft steams. 
uutiskirje
Join  @Laguuniin and be the first to know about new events and happenings. Join and be ready for surprises!